Seeing the Campuhan Bali in 1955 From Affandi's Painting
Dec 06, 2022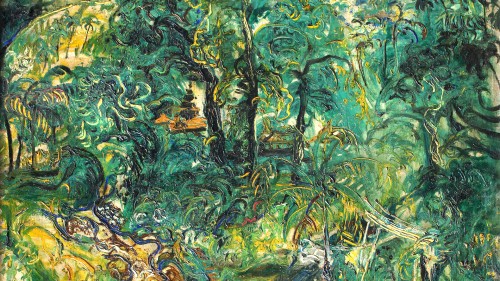 A Maestro Affandi's painting is now standing next to me, and everything about it-from its creation year to the subject it depicts to its provenance-make it extraordinary, He only received recognition at the Venice Biennale in 1954, the year the artwork was made. Let's also talk about the fact the thing shown is a campuhan object, which is very uncommon market object, and that this piece is a collection from Adam Malik, who at that time ran Jakarta's biggest museum.
The expressionist style is a painting style that emphasizes the painter's emotions through colors, brushstrokes, and shape for Affandi, it is shown from the paint directly guided from the tube, producing a unique effect that is his trademark. When combined with directly pouring from the tube, Affandi can paint quickly without the need to mix colors, resulting in works what are rich in primary colors.
This work describes the scenery of campuhan, which is a local Balinese word that means the meeting of freshwater with saltwater or the meeting of a river with the sea. However, in this work, campuhan is a location in Bali's Ubud area that is currently one of the tourist destinations in Ubud.
We begin on the left side of this work, where there is a path filled with plants on the right and left sides, with dense trees depicted to the top of the work.
In the center, there is a river flow depicted in white and blue colors, with a brown flow along the road. Natural stones around the river are described by Affandi.
Campuan is famous for its temple in the midst of lush nature, which is depicted in this work with strokes of green that fill a quarter of this work and towering coconut trees depicted throughout.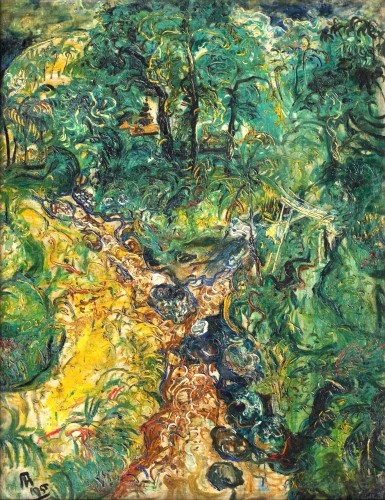 The temple, which is depicted in brown and black colors, is in the middle of the sea of green. Affandi's work on the right side depicts several variations of plants spontaneously in red, as well as details of the flyover depicted in white, details like this found only in his works from the 1950s to 1960s.
This is one of the works that is highly targeted for several reasons. The first of these works was created in 1955, a year after he became the first Indonesian painter to be awarded at the Vince Biennale, where his painting style, namely painting directly from the tube, was recognized worldwide and referred to as a "new expressionist".
Furthermore, this work is a collection of Adam Malik, the third vice president of Indonesia who is very closely related to fine arts ranging from sculptures, inscriptions, ceramics, paintings, and many more, and who founded a museum in 1985 that was the largest in Jakarta at the time.