Lukisan Affandi Dengan Tema Hutan Bambu dan Perahu Jukung Yang Menjadi Objek Favorit
Nov 17, 2022

New Expressionists adalah sebutan yang diberikan untuk Maestro Affandi Ketika mendapat penghargaan di Venice biennale pada tahun 1954. New Expressionists yang di maksud adalah cara melukis Affandi yang menyalurkan emosi nya kedalam canvas tanpa ada perantara kuas. Cat langsung di tuangkan melalui tube dan di pandu oleh tangan, dengan pilihan warna-warna primer sehingga seluruh emosi beliau dapat tersalurkan. Di tambah lagi karya beliau yang penuh dengan tarikan spontan ini juga memiliki detail yang luar biasa.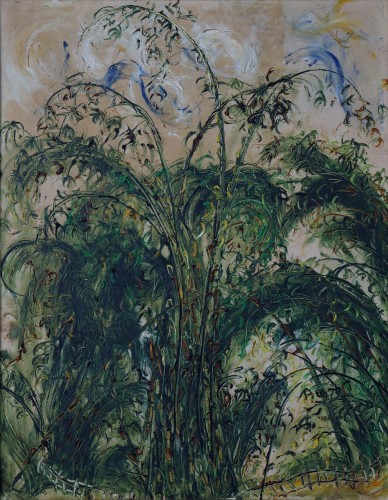 Pada karya pertama berjudul "Rumpun Bambu" hutan bambu yang lebat dapat terlihat di seluruh karya ini dari kiri kanan atau atas ke bawah. Warna hijau tua yang mendominasi menunjukan hutan yang rimbun. Bambu yang memiliki karakteristik flexible dan tahan banting ditunjukkan melalui rumpun bambu pada bagian tengah.
Individual bambu digambarkan dengan tarikan panjang dan luwes dengan bagian bawah kokoh lurus semakin ke atas batang bambu tersebut digambarkan melekuk ke kanan atau ke kiri. Di mekian pula dengan rumpun bambu pada bagian kiri dan kanan di mana batang bambu di gambarkan menekuk lebih dalam.
Daun daun bambu digambarkan secara impasto dengan menggunakan variasi warna hijau dan juga warna kuning. Warna kuning ini juga terdapat di beberapa batang bambu dan itu bukan suatu kebetulan karena batang bambu yang lebih sering terkena sinar matahari akan berubah menjadi warna kuning. Pada bagian bawah dapat terlihat pagar yang melintang dari kiri ke kanan. Detail-detail kecil seperti ini yang membuat karya Affandi sangat menarik untuk di lihat lebih dalam.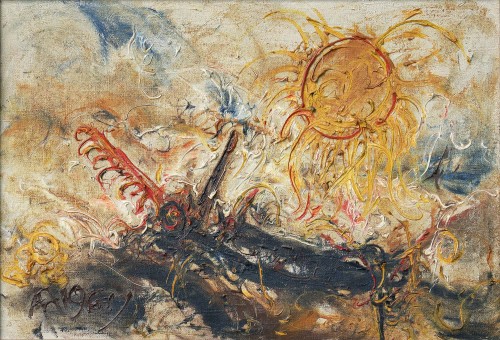 Karya berikut nya adalah perahu dan matahari, terdapat 2 karya dengan tema ini dimana dibuat pada tahun 1961 dan tahun 1985. Hal yang langsung menonjol adalah karya yang dibuat pada tahun 1961 memiliki warna yang lebih dove sedangkan karya pada tahun 1985 memiliki warna yang lebih "terang".
Hal tersebut menunjukan perjalanan seni beliau, dengan bertambah nya usia banyak pelukis menggunakan warna- warna terang dikarenakan retina mata yang semakin sulit melihat warna-warna yang redup. Walau begitu di ke2 karya ini goresan-goresan karakteristic beliau sangat terlihat.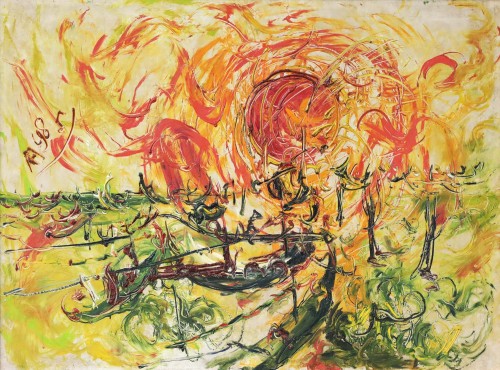 Karya-karya beliau dengan objek perahu mengangkat tema perjuangan karena beliau besar di kota pesisir dimana beliau takjub dengan perjuangan para nelayan dalam menembus ombak setiap harinya. Tema tersebut terdapat di ke 2 karya ini, perahu jukung adalah perahu tradisional yang hanya digunakan oleh nelayan dapat dilihat dalam kedua karya ini begitu pula dengan matahari yang bagi Affandi matahari merupakan simbol dari kehidupan.
Pada karya "Perahu dan Matahari" fokus utama adalah perahu jukung yang sedang berlabuh di pesisir digambarkan dengan warna hitam dan merah, dengan matahari pada bagian kanan dilengkapi dengan lautan yang digambarkan menggunakan warna biru dengan sapuan tangan. Sedangkan pada karya " boats and the sun" focus nya adalah pada matahari yang di tengah-tengah karya dengan warna merah dengan sinar matahari mengelilingi Perahu.